WHAT IS SEO (search engine optimization)

SEO Stands for search engine optimization. It is basically the practice of knowing what people
are searching for, what type of content they want to consume! The main motive behind this is
to gain attention which ultimately leads to more popularity and profit of the business! The
website traffic that we get through the tools of SEO is organic i.e. non paid!
Types Of SEO
1) Black hat SEO
2) White hat SEO
Black hat SEO
Black HAT SEO is basically the unethical way of promoting your websites and get on top
of the SERP( Search Engine Research Pages), the techniques that have been used, Black
Hat SEO is against the terms and condition of search engines and after being caught it
results in getting banned from the search engines and the affiliate sites! The black hat
SEO techniques are mostly described by the computer hackers, the one who creates
malware software which ultimately lends to create viruses, and the ones who use
computer devices for unethical work
Following are the techniques that have been used by black hat SEO`s are: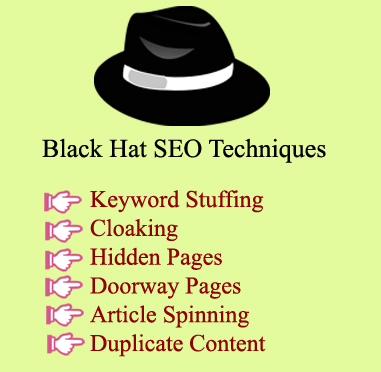 Keyword stuffing
It is basically the SEO technique that is considered as unfair, in which one uses
the keyword again and again to get it top in the search engines! This method is
very old but still used by SEO consultants! For example, if your keyword is " best
laptop for gaming" and one search for it and you see a website saying if you want
the best laptop for video editing, we provide you the best laptop for video
editing. This would be considered as an optimal example of keyword stuffing!
Cloaking
Cloaking is basically showing the different URL, but when one goes through the
page the content is completely different! This is also a very unethical way of
promoting your content and making a profit out of it!
Hidden pages
Hidden text or links is also an unethical and old practice performed by the black
hat SEO`s. under this concept, SEO adds some hidden text in the URL, which
ultimately lends the researcher to a page in which he/she had not expected it to
be!
Doorway pages
Doorway pages are also an unethical way of promoting your web site, it is
basically creating the redirecting pages, like have you ever gone to the particular
pages, they land you to the completely different page, this is why doorway pages
are made up for!
Article spinning
Article spinning is a technique which is used by content writer, this is also used
in black hat search engine optimization, in which one basically re-create the content which is already
existed by changing some words, phrases and sometimes even a full paragraph!
Duplicate content
Duplicate content as the name suggested is basically showing the same content
but in a different URL! It is nothing but copying content from a particular
website, which is obviously illegal. For example, if you see some content on a
particular website and once you start studying about and started surfing about it
more and more, and you see a different website with the same content that you had
already seen, so you can mark it as duplicate content!
White hat SEO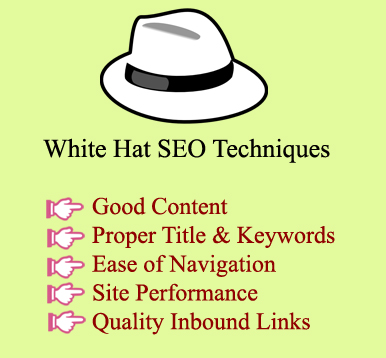 Good content
Good content is the important factor that should be considered, in terms of
getting top in result page bar of search engines, obviously we need a good website
structure but a-part from that if your content is not good, then all other factors will not
help!
Proper Title and Keywords
Using proper keywords is one of the most important factors that one search engine optimization
consultant use to get it to the top, basically it helps the searcher to get into your
website!
Ease of navigation
Ease of navigation means it should be easy for a searcher to get into your website,
they should not do so much of labour work to get into your website, it should be
an easy task for them and loading content should not be an issue for them!
Site performance
Site performance is judged by how much time, your site takes to get the subject the
desired result, less time helps the subject to save his time and get a good
experience with your site, which lends him to stuck there for more work, which
ultimately promotes your website.
Quality inbound links
It is a link in between a web page in your website with a different website, it made
of two parts i.e. First, with a link which will attach and highlighted text in your
link which helps people to get attracted to your website!
Conclusion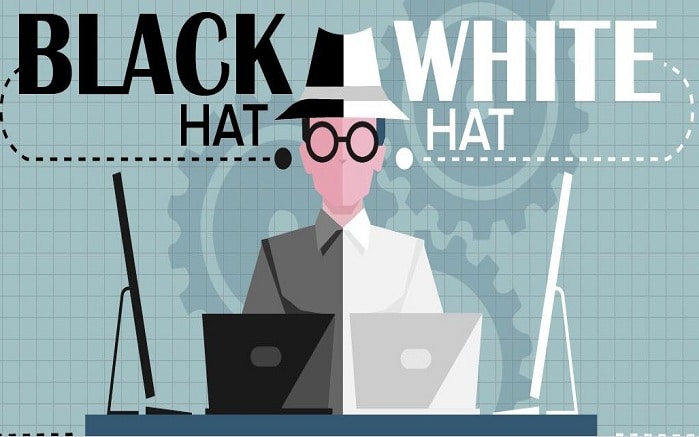 So, as we have discussed both black hat and white hat SEO(search engine optimization), the next question that
often comes to the what should we opt for, black hat although it is against search
engine guidelines but these helps to get on top very quickly and on the other hand white
hat technique may follow search engine`s guidelines but it takes a lot of time to get it
on the top with these techniques!
If you have to take my point of view I would always go for white hat techniques as it is
more reliable and one who is opting this thing for long run, will not survive with black
hat techniques as google keep changing its algorithms after a time span which may exploit
your work!
So, however even if white hat techniques takes time but one can play a longer game
there as it is more reliable and one can adopt it with time!